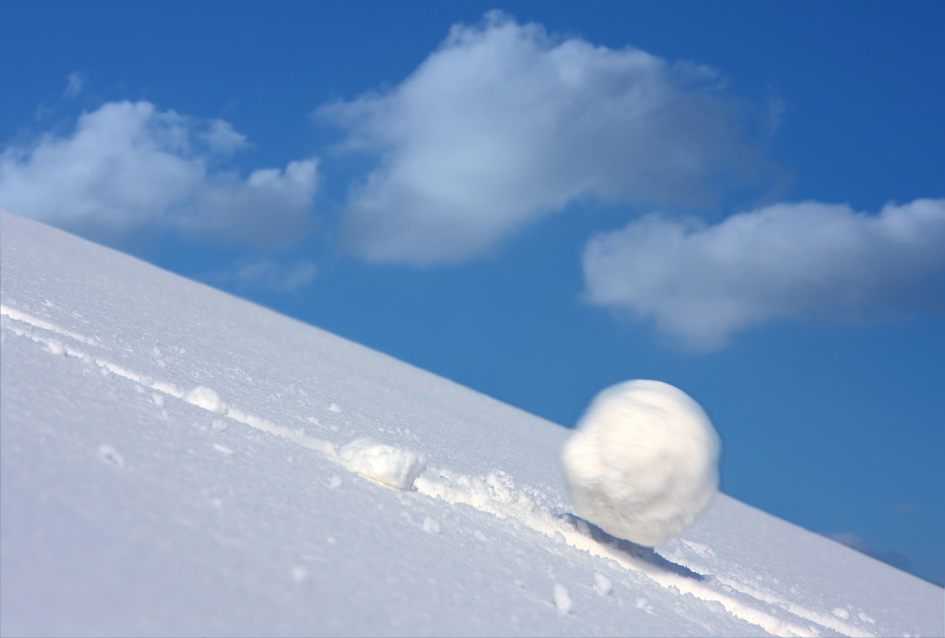 In an earlier post, I outlined the 7 Metaphors for Leadership Transformation that came from my doctoral research.
I am very humbled by the amount of interest this has generated through social media and in recent speaking gigs.
I made a commitment to elaborate on each metaphor over the coming months – we've already seen the first one – 'FIRE' with a three minute animation and CEO case study. So here's the second one –'SNOWBALL'.
What does this unlikely metaphor have to do with leadership transformation???
The 'snowball' metaphor is often used to describe when something small and potentially insignificant builds upon itself over time, thereby becoming large, powerful, and even unstoppable. Case in point, Wile E. Coyote from the Road Runner cartoons being swept up in a snowball as he careers down a mountain!
One reason I love the snowball metaphor is that there are two distinct motions (see picture below). Motion 1 is where the snowball spins round and round on itself, like a self-amplifying cycle. Motion 2 is the ever increasing speed of the snowball down the mountain. These two motions helped me to make sense of two important themes that came out of my research on how leaders transform – accountability and momentum.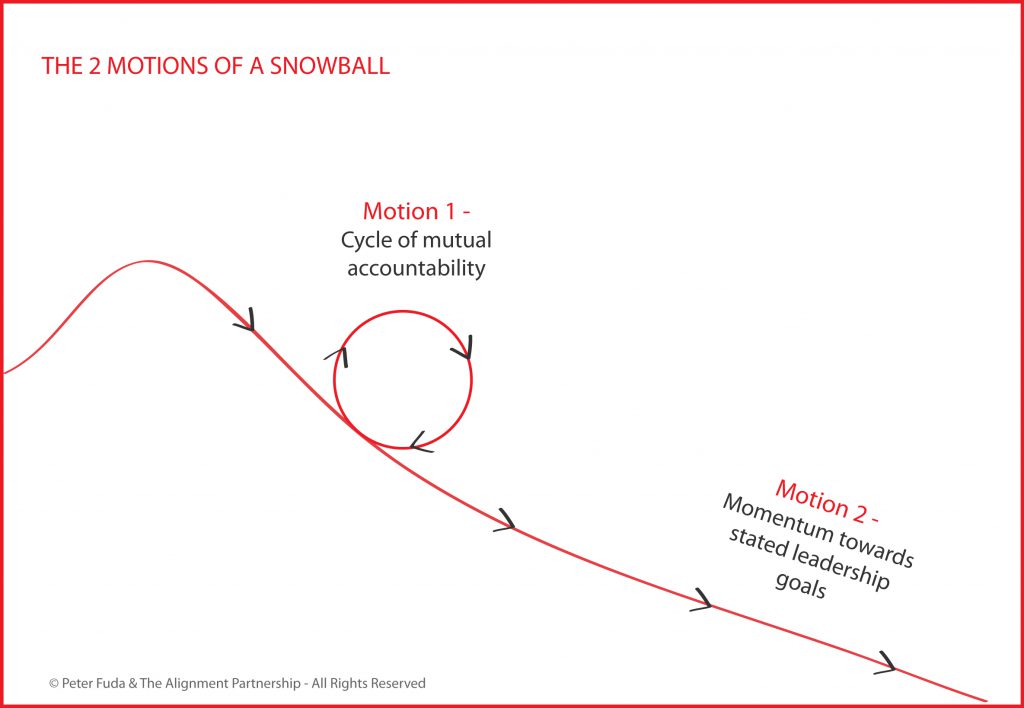 I liken Motion 1 to a cycle of mutual accountability that develops among leaders who each commit to agreed leadership standards. Importantly, this accountability holds between leaders and subordinates, regardless of their position in the formal hierarchy. It starts off small, with the individual leader, and grows bigger and bigger as more leaders are 'swept up' in the process. Inevitably, this creates Motion 2 of the snowball; momentum towards the stated leadership goals.
This effect is perhaps best described by one of the leaders in my research – Clynton – who in fact gave me the metaphor in the first place! I'll be talking about Clynton's story in depth in my forthcoming book Leadership Transformed. In the meantime, I'd like to share a little bit of his story here, and some of his footage from our documentary Beyond the Superhero. If you'd like a little background on his story, here it is below.
CLYNTON'S STORY – HOW 'MR SKINCARE' GOT THE SNOWBALL ROLLING
Clynton is a Managing Director in a major multinational skin and beauty company headquartered in Germany. Over nine years, Clynton had worked his way up from a marketing officer until, at the tender age of 34, he became the global corporation's youngest ever country manager. Despite his youth, he was regarded as 'Mr Skincare' – not just for his radiant looks – but for expansive knowledge of all key aspects of the business. The problem was, beneath his polished façade, he was exhausted…
"I was personally exhausted. I had been 'Mr. Skincare' for 9 solid years and I just couldn't keep pushing the business by myself. I really needed to create an environment where my team could take the reins. It was probably a bit selfish; I wanted to get some space back and spend more time thinking about the future."
Clynton undertook a 360 degree feedback process along with his executive team, which revealed that his constant pushing of the business had created some very passive behaviors in others. Everyone had come to depend on him and avoided making hard decisions.
He basically had three options: to hide his feedback, to rationalize it away, or to share it openly and honestly with his team. Clynton chose the third option – he admitted for the very first time that he was tired, and that he didn't have all the answers. But beyond sharing his pain, Clynton also shared his vision for the future, and asked his team for help leading the company toward it.
In the following weeks, he opened up to the company at large at an annual leadership forum and shared his feedback and his intention to change with his top 60 leaders. He invited all of them to join him on a quest to become the best leaders they could be. By opening up in this way, Clynton was not just committing to make changes personally; he was very consciously setting a standard—and an agenda—for others to follow. This was the beginning of a 'snowball effect', as Clynton describes in the video footage below.

It is worth nothing that Clynton's comments about being 'trapped' in the centre of the snowball, while tongue-in-cheek, do contain a serious undertone. Effectively, when Clynton refers to being trapped, he means that there was no way he could waver from his stated intent without answering to all of the others who surrounded him in the snowball. And this form of 'entrapment' held for every other leader in his organization. Those who could not cope with the increase in personal accountability and responsibility left, and new team members who thrived in this type of environment joined.
3 KEY ELEMENTS OF THE SNOWBALL METAPHOR
Point of No Return:
There is a point of no return when a leader openly acknowledges their shortcomings and flaws, and makes a public declaration to others regarding their desire to change.
Such a declaration creates an implicit expectation that team members will follow their lead and make a similar commitment.
Mutual Accountability:
All members of a team become accountable to one another in their quest to become more effective leaders – regardless of their position in the formal hierarchy.
When an individual leader is simultaneously held accountable by superiors and direct reports, there is an exponential increase in momentum toward more effective leadership.
In reality, the chain of command doesn't actually change; but subordinates will aspire more willingly to the goals of their leader because they are being led by someone who is holding them self accountable to the same high standards being asked of others.
Momentum & Friction:
Just like a snowball gathers momentum as it picks up more snow on its way down the mountain, leadership transformation accelerates as more leaders are 'swept up' by the process.
There are few actions more powerful to build momentum for a transformation effort than removing a senior leader who is getting results but causing drag on the snowball by not living the agreed standards of behaviour. Removing this drag or friction is very powerful not just for the organization, but also for the leader who has to make the tough decision.
ASK YOURSELF THESE QUESTIONS TO DETERMINE THE TRAJECTORY OF YOUR SNOWBALL
1. How open and accountable are you prepared to be?
2. How can you create accountability throughout your organization, from the leadership team down?
3. How might you address the potential sources of drag or friction?
As I mentioned earlier, one of the reasons I love metaphors is, that they are generative in nature.  That means, you generate your own meanings and interpretations of the metaphor as opposed to mine. I'd love to hear any thoughts and experiences you'd like to share.