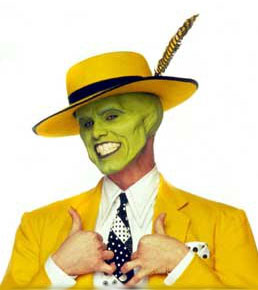 In my previous post I spoke about the Mask Metaphor – one of the 7 Metaphors for Leadership Transformation that came out of my original research. Through the case study of Mike we looked at the mask of the Phantom; how leaders conceal perceived imperfections from their audience in favor of a polished façade.
But there was a second type of masking that we saw in our research; the adoption of a persona that is misaligned with a leader's authentic self, values, or aspirations.
To explore this mask, I draw from Chuck Russell's 1994 film The Mask starring Jim Carrey.
If you haven't seen the movie, Jim Carrey's character, Stanley Ipkiss is a shy man who discovers a mysterious green mask. The mask transforms him into a confident, aggressive, and outgoing "superhero." With Loki's mask, Stanley becomes the man he thinks he needs to be in order to succeed in life – and get the girl.
In contrast to the Phantom, people perceive Stanley as the mask rather than as someone hiding behind a mask. Adopting this persona and alienating people pushes Stanley to learn that the mask isn't all it's cracked up to be. It's not until Stanley eventually rids himself of his mask – which takes some doing – that he gets his happy ending.
Similarly in my research and experience, I have learnt that there is an inevitable pain and detachment experienced by a leader when they mask their authentic self. By exposing their vulnerability and dropping this mask, leaders inspire their followers to do the same, ending in a more aligned relationship between the leader and their followers.
THE CASE OF CHRISTINE; CEO AND SELF-CONFESSED MASK WEARER
Christine was the highly articulate and ambitious CEO of a credit reporting and debt collection company that was part of a very macho industry. Christine had agreed on a plan to transform this organization through a private equity arrangement that held great potential, but unprecedented risk as well. Christine responded to these pressures by tightening control, leaving nothing to chance, and demonstrating a tough, take-no-prisoners style of management.
In this video footage, Christine describes how by masking her natural instincts she alienated other people within her executive team. She then goes on to describe how by dropping this mask and becoming more authentic as a leader she had a substantial impact on the performance and morale of the organization.
A real turning point for Christine was when she began employing really smart executives – people she considered smarter than herself. They were harder to fool, but they also brought out more of Christine's natural curiosity and openness. It led to a shift in mindset for her.
Now, with the Mask of toughness and control coming off, her eyes were opening to the power of what they could achieve together. "The challenge is that you can't take risks unless you're prepared to be vulnerable—it's actually a sign of strength." She said to me.
Just as Stanley Ipkiss eventually decides that his mask is not all it's cracked up to be, so too did Christine decide that her tough persona was at odds with her deeply held values as a leader. Having shed the Mask, Christine is now an independent director on several boards, and president of Chief Executive Women, a think tank and networking organization for top female CEOs.
Want to keep reading? Here are some quick links to other blogs you may like;
Authentic Leadership: The Mask of the Phantom
Video Case study of the 'SNOWBALL' effect
Tim's story: From 'pants on fire' to Earth Hour