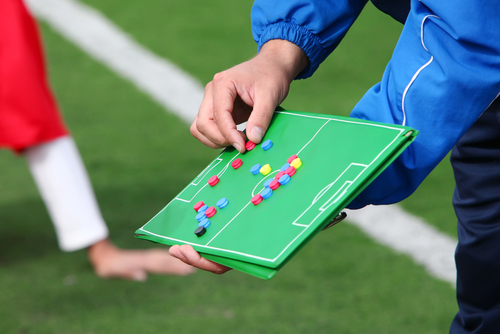 Today, coaching is used in a wide range of professional disciplines including business, education, and psychology. When you think about coaching in these contexts, the image that probably comes to mind is a one-to-one consultation that takes place behind closed doors, detached from the usual environment. In contrast, my research led me to explore the use of the word within the context of sport and how that somewhat different use applies to leadership transformation.
Football metaphors are, of course, not new in leadership literature, and are often related to individualistic and competitive behaviours. My interpretation, however, is quite different: for me, football is a team sport. Teams comprised of superstars often loose to cohesive teams of individually inferior players.
While a business leader may be seen to be the captain of a team, there is an important distinction to be drawn between the role of captain and coach. While the captain may have been selected for the role because of a certain leadership quality he or she displays, a captain cannot be successful without support from the team.
Any successful football team requires a clear distribution of roles both within and around the team, and this distribution of functions is similar to those assumed by the groups who can help a business leader transform: a formal coaching staff, such as executive coaches; teammates such as the leader's peer group and direct reports; and fans such as family members who are vested in the leader's performance.
It is by leveraging all three groups in the coaching process – executive coaches, colleagues and family members – that leaders accelerate their transformation.