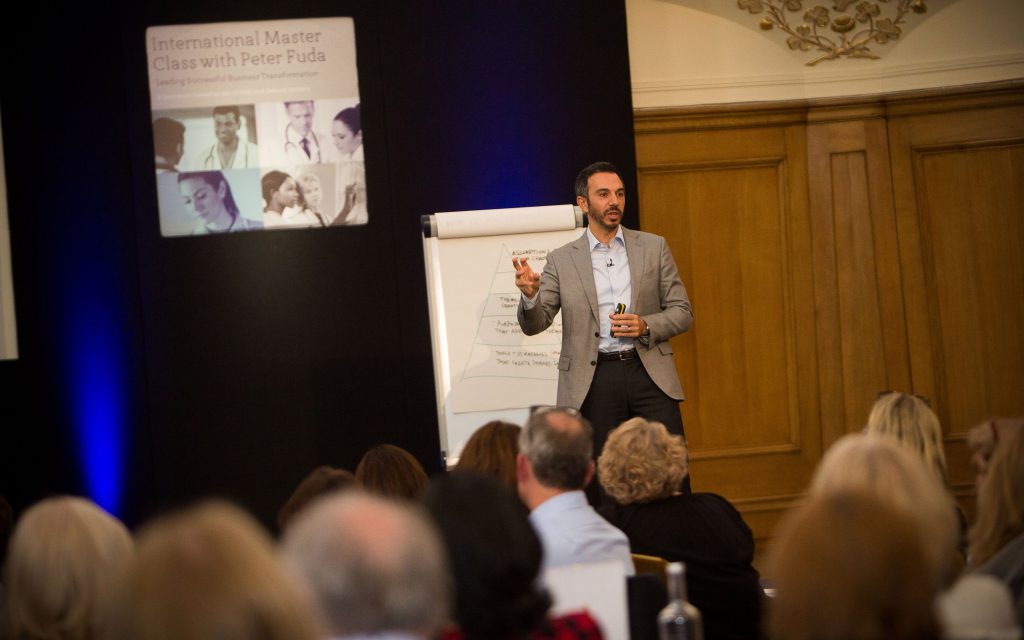 Peter is a prolific change agent, and a globally respected authority on business and leadership transformation.
As a management consultant, Peter and his team at The Alignment Partnership (TAP) have created some 40 published case studies of business transformation, and more than 1000 individual case studies of leadership transformation around the world. Clients include global multinationals like MasterCard, Kraft, Philips, Peabody, Bayer, Xstrata, CSC, Luxottica, Dun & Bradstreet and Mars; ASX giants like Westpac, Telstra, Suncorp, Foxtel, Crown Casino and Promina, and the Hong Kong and Queensland governments. In an environment where 70% of all change efforts fail, TAP has a better than 90% success rate.
As a leadership coach, Peter has enabled more than 200 CEOs to measurably increase their leadership effectiveness and performance.
As a thought leader, Peter's research and approaches to transformation have been published on five continents. He is the first Australian ever published on transformation in the prestigious Harvard Business Review. He is the Executive Producer of the documentary film Beyond The Superhero, licensed to Qantas. He is also the author of the international bestselling book Leadership Transformed; How Ordinary Managers Become Extraordinary Leaders.
Peter has completed countless speaking engagements to tens of thousands of senior executives on four continents, is a regular commentator across print, TV and radio media, and his doctoral research is now required reading at universities from Taiwan to the USA, including at Harvard. Peter is also an Adjunct Professor of management at Macquarie University. He holds a doctorate in Business Administration, a Master's degree in Marketing and Management, and a First Class honours degree in History.
Testimonials – Consulting and Coaching
"Peter's personal insights are extremely valuable. He brings a unique approach to business and leadership transformation through his thought-leading frameworks and real world experience."
David Thodey, CEO, Telstra Corporation
"Peter has had a major impact on my approach to leadership. I have learned profound lessons through my experiences with Peter that saved me years (if not decades!) of trial and error. His advice is simple in its delivery but profound in its impact. Every minute I spend with Peter is time well spent. I always leave with a deeper understanding of how I can shape the performance of my organisation through our people. Peter has been one of my biggest sources of competitive advantage in business. Peter is a Zen Master to the modern CEO."
Tim Castree, President & Global MD, Starcom MediaVest
"Peter is a leadership transformation master who has uncovered the art behind predictable leadership and business transformations. Peter's approach works, works quickly, and instils a sense of purpose and momentum that leads to sustainable performance."
Mark Weikel, President and CEO, Retail Optical North America, Luxottica
"Peter is a uniquely gifted student of business and human nature. His quick wit and remarkable insights, combined with world class facilitation and interpersonal skills, and an innate ability to craft and express a compelling story with humor and excitement and draw you into it, are an inspiration to me and all who work with him. He has developed a truly unique paradigm and methodology for looking at strategy and people, and aligning them at the molecular level. He is an amazing catalyst for change for any organization he chooses to serve, and a true pioneer in the consulting and business world. Peter is the most effective management consultant I've ever met, and I would be proud to recommend him to anyone."
Russell Owen, Global President Managed Services, CSC
"Peter has intellectual integrity; he is considered, wise and insightful in all that he shares. Peter brings clarity to the dynamic confusion that challenges businesses on a daily basis."
Tim Sims, Managing Director, Pacific Equity Partners
"Peter is a leader in his field and has been an important part of my development as a CEO.  He has a unique ability to ensure you remain focussed on the issues that matter to drive performance throughout the company."
Richard Freudenstein, CEO, Foxtel
"I have been highly impressed with Peter Fuda. He's experienced. His work with leaders is grounded in their strategic business challenges. He's gets to the heart of an issue – whether it is about a person's style, the business of the session, or anything in between. When he's involved, the work gets done. I could say a lot more but my bottom line is that he's as good as I have ever seen."
Martha N. Johnson, Head of US General Services Administration, Obama Administration
"Peter has the energy and insight when your battery is low to enable you to simplify the issues, re focus on what is important and re charge for the next challenge. He is a great partner for a CEO."
Geoff Summerhayes, CEO, Suncorp Life
"Peter is the most inspiring expert on leadership and business transformation I have ever met. He combines very deep knowledge and broad experience with an amazing amount of emotional intelligence and common sense. Every single meeting with him is a tremendous learning opportunity and personally enriching experience. His company, TAP, is the ideal partner for us on our transformation journey. Within a very short period of time they have been able to light a fire in us as leaders and the broader organization. The passion, energy and alignment they have been able to create after only a few months is simply amazing."
Dr. Susanne Fiedler, Managing Director, MSD
"Peter is 'a practical visionary'.  He has determined exactly how to transform organizations.  Using empirically-proven models – and an extensive track record of success – he helps business leaders see that success 'is not a matter of intention, but a matter of alignment'."
Eric Anderson, President, LensCrafters
"Peter significantly enhances a company's leadership capability and bench strength. Peter is a strong and decisive leader with great ability to translate strategy into action."
Christine Christian, CEO, Dun & Bradstreet
"Peter was instrumental in our organisation building a highly effective leadership team that delivered dramatically improved business results. Peter develops a very strong insight into your business, and understands how to use those insights to positively impact the performance of the business working very effectively with leadership teams to implement action plans."
Leigh Clapham, MD, MasterCard Australia & NZ
"Peter is very focused on ensuring you succeed. He's highly skilled, very knowledgeable, and actually knows exactly how to help you achieve your goals. He's a great communicator of complex and challenging concepts – he makes the solution obvious. Peter is genuine in caring for the people he is seeking to help; you don't feel like a client, but a trusted and valued friend."
Russell Skelton, CEO, Macquarie Generation
Peter's insights provide a unique edge to strategy, communication and leadership effectiveness. He delivers value from the first day.
Roger Hawke, Managing Director, Crown Castle
Peter Fuda is extremely insightful. He cuts through all the noise to provide direct, actionable and in-the-moment feedback.I highly recommend TAP to any leader that is committed to driving positive change and that has the will to truly reflect on, and act to address, the impact they are having on the organisation. If a leader has the will, TAP will provide all the support and guidance necessary to deliver positive business and personal outcomes.
Sylvia Burbery, General Manager, Mars Petcare Australia
"When I arrived in Sydney I inherited an organisation which according to a Hewitt survey, had an engagement score in the bottom 10% of all Australian organisations. I knew I had a problem and realised I had to do something but I had no idea where and how to start putting it right. Peter Fuda changed all that. Peter is a very easy person to get to know and radiates a wealth of experience. He was the driving force behind the cultural transformation that occurred at Bayer ANZ. He became my personal leadership coach. He catalysed my transformation from an aggressive style leader to a leader who really began to understand and implement the effective styles of leadership which enabled the organisation to be far more successful. In a nutshell, Peter Fuda was the prime reason why Bayer ANZ transformed its culture in 5 years to be awarded the prestigious honour of being nominated in the top 10 employers in Australia. I can't think of any better accolade than that."
Dr. Alan McGilvary, CEO & Chairman, Bayer Australia & NZ
"Peter possesses a rare and valuable mix of outstanding intellect with world class academic qualifications, and a genuine capacity to apply both for great commercial outcomes. Peter's company, TAP, is a genuine partner with a clear methodology that does truly align an organization. The result is superior outcomes for all stakeholders."
Brett Himbury, CEO, Industry Funds Management (IFM)
"Peter has an excellent ability to quickly grasp the issues and put in place short term actions which will lead to long term actions and then ultimately success. Peter is an exceptional listener who can move the theory very quickly into the real business world. Thus you get very quick tangible returns. Peter can quickly provide a management team with clarity on what are the real key issues. With Peter's assistance anything is possible in an organisation, the only boundaries will be your ability to keep pace with him."
Paul Timmins, MD, Getronics
"At Kraft we like to use the metaphor of climbing a summit to describe our transformation journey. In the words of Edwin Bernbaum , in Mountaineering "No matter how close the group, ultimately, one or two members will have to go out in front to establish the route for others to follow, but they're doing it — or should be doing it — so everyone who is able has a chance to get to the top". In our story, Peter and Ian are those people."
Rebecca Dee-Bradbury, President & CEO, Kraft ANZ
"Peter's insight into how people and teams act, perform and how they are seen in the eyes of others is used to great effect to improve performance of both individuals and teams. This improved performance helps the bottom line!"
Mark Milliner, CEO, Suncorp Personal Insurance
"Peter has a relaxed informal style that is anchored around a deep understanding of organisational theory. I believe it ensures people feel comfortable opening up to him, but secure in the depth of his insights and counsel to them. Peter has inspired myself and my team to take our organisation on a journey that has been sign posted with numerous successful outcomes."
Clynton Bartholomeusz, MD, Beiersdorf Australia and NZ
"Peter brings a world of possibilities and insights into transformation. He distills his leading edge research and practice into simple concepts that allow leaders to achieve their greatest ambitions, and realize their biggest dreams. Peter's company, TAP, is not a "sheep dip" consultancy, but a true business partner and advisor. They have customized every aspect of our transformation journey, adapting and shaping their approach based on our specific business needs at any given moment. The end result has not only been some amazing outcomes, achieved extremely quickly, but a truly enriching experience for all concerned."
Chris Beer, President Asia Pacific, Luxottica
"Peter is extremely insightful and recognises the unique challenges that we face in taking a private family orientated company and turning it into a world class organisation and dealing with the multitude of issues that arise from such a transformation. Peter is a dynamic person who can articulate organisational concepts and human behaviour in ways that make it easy to understand the key issues that leaders of organisations need to be aware of in producing organisations that achieve superior performance. Peter can not only talk the talk but he also has the lived experience. He is a very talented and motivating individual."
Maha Sinnathamby, Chairman, Springfield Land Corporation
"Peter's signature strength is the rapport he is able to build with a CEO audience based on shared values, authentic relationships and value-add. I would not hesitate to recommend Peter to anyone endeavouring to achieve high quality change and performance outcomes."
Jim Varghese, Director General, QLD Department of Education
"Peter has a great approach, a great brain, coupled with great intuition. He applies them all to help CEO's and management teams achieve greatness. I believe he has a unique skill."
Mathew McGrath, CEO, Y&R Brands
"Peter combines a unique set of skills in terms of real life examples and current day thinking on key business issues. He is able to quickly and decisively sift through all the noise within an executive team and constructively get to the heart of the real issues. His dynamic and thoughtful personality is able to drive excellent outcomes. Peter has been a valued external member and advisor to the Executive Team as we have wrestled with complex business issues."
Mike Shove, President & Global COO Managed Services, CSC
"Peter's key attributes that have enabled our relationship to work were his integrity, insightfulness and excellence. He has enabled me to be a better leader and has engaged with my team to drive superior economic and people outcomes that our entire business is proud to have achieved. He proves age is not a barrier to wisdom and that I can still learn and improve both as a person and as a leader. Thank you Peter."
Dennis Fox, CEO, Promina Financial Services
"Peter allows you to see that what you consider good can be better, always. Peter is a person who teaches by helping you to see what you need to learn."
Anne Parsons, CEO, MediaCom
"Building great strategy is one thing, but being able to execute it is equally important. Peter delivers two critical components: focus and alignment. That is, all resources aligned to common business objectives. By assisting us in developing clear lines of site to our key goals, we have been able to create a more dynamic and focused operating environment. Peter is a great listener. This is an important skill as it enables Peter to deliver upon the client's needs and not some wrap around generic management theory. He has been able to demonstrate a clear understanding of our business imperatives over a long period of time and always delivers on agreed outcomes."
Richard Longhurst, COO Gaming, Crown Casino
"Peter is intellectually exceptional and applies himself commercially brilliantly."
George Fatouros, Asia-Pacific MD, PZ Cussons
"Peter is an engaging person who invests substantial time and energy to develop the personal relationships required for real growth to occur. He has innovative approaches which enable executives to build their personal capability to tackle the tougher issues which culminate in positive 'go forward'."
Angelo Mallizis, CEO, Wizard Home Loans
"Peter has an excellent and intuitive understanding of leadership and culture. He is well informed and is very comfortable sharing his learnings, either one-on-one or leading group discussion. He is an outstanding facilitator, able to bring a diverse group of senior executives to the heart of an issue very quickly. Peter is a passionate believer in what he does and in the power of the individual to create change. His passion and enthusiasm are infectious."
Commander Grant Dale, Royal Australian Navy
Peter is the ultimate consigliore; a trusted confidant.
Anthony Heraghty, Group GM, Pacific Brands
"Peter brings a unique clarity to Strategic Planning and change management processes. He understands the importance leadership plays at all levels within an organisation and through his mentoring, earns the trust and respect of senior executives. Peter is a highly intelligent individual whose energy, enthusiasm and direct approach enables organisations to achieve significant outcomes. Peter is a valuable "sounding board" on a range of business related issues and his contributions are always concise and insightful. Peter is passionate about the change process, demonstrating a rare skill in finding creative solutions to problems that are often specific to your business."
Iain Abercrombie, CEO, Maxxium Australia & NZ
"Peter helps to re-establish the basic ethics, integrity, teamwork and trust that organisations aspire to. He also enables organisations to reconnect meaningfully with their people. Peter is refreshing, engaging, empathic, trustworthy, and a change nucleus that every senior executive should have to help them build their business."
Gavin Larkings, President & CEO, CSC Australia
"Peter is an inspirational provocateur, providing thought leadership and always challenging current paradigms that enable us to achieve sustainable outcomes."
Vince Pinneri, MD, SPC Ardmona
"Peter Fuda is intelligent, intuitive, likeable, responsive and caring."
Robert Setter, Director General, Queensland Department of Primary Industries & Fisheries
"Peter has taught me to honestly look at situations in a detached and non judgemental way, so that the appropriate solution can be found to an issue as opposed to the regular corporate programmed answer. Peter is focussed, gets to the key issues quickly and is fair, honest and objective. His honesty and communication of his view is very disarming at times – it cuts away all the bullshit. Peter is successful because he absolutely lives his life the way he performs his work – his work is an extension of himself."
Mark Bayliss, CEO, Quick Service Restaurant Holdings
Peter has a passion for excellence and a gift for producing simplicity from complexity. He is inspirational, humble and passionate.
Geoff Erby, MD, Goodman Fielder Home Ingredients
"Peter is passionate, professional and insightful. He has great confrontation skills to enable breakthrough approaches and an ability to get teams focussed and keep initiatives moving. Peter is a big picture thinker with a thorough understanding of the little things that can get in the way of organisations. He is well disciplined and professional in his approach but always very "user friendly".
Harry van Dyk, CEO, Philips
"Peter has a gift. He has the ability to look at complex leadership and cultural issues and knife through them to get at the core of what must be done. He helped me understand the dramatic impact a leader can have on company culture and the linkages between company culture and success.  He had an immediate impact on me and my team during a period of great turbulence and cultural change. Fuda can be a hard task-master but he has a passion for helping leaders to navigate confusion and to create clarity and stability, he is also a great guy!"
Adam Davenport, CEO, Cellnet
"Peter provides the strategic insights and coaching required to align organisations to achieve their goals. He does this in a way which is constructive but does not retreat from the tough organisational and personal issues. In summary, Peter has a big but constructive impact leading to personal and organisational growth."
Chris Gilman, CEO, Griffith Hack
"Rather than tell us what we want to hear, Peter continually challenges us with alternative ideas and approaches to take our performance to the next level."
Rod King, MD, Laserlite
"Peter provides organisations with focus and strategic direction to take them from a collection of talented individuals to a high performing team. Peter provides the tools, confidence and knowledge to create competitive advantage."
Brendan Donohue, Executive GM, Thiess NSW/ACT
"Peter significantly raises awareness of the role of a leader and those behaviours & symbols which create positive & constructive leadership impacts. This awareness facilitates the ability to deliberately manage leadership impact to drive towards constructive outcomes. Working with Peter is a refreshing experience – providing significant challenge but with support which is both deep and broad; you are encouraged to take risks, but in a measured way. Peter's personal style is highly engaging and he is able to draw on a wide range of past experiences, both directly and referred. I have at all times regarded the relationship as one of partnership, striving towards a common goal, and certainly not one of consultant & client."
Sean Carroll, Executive GM, Suncorp Life
"Peter is a mentor of the highest quality and integrity who will work with you to transform your own personal performance as well as the performance of your business and your people. Someone who will make you realise that effective leadership and a constructive culture can transform business performance. He is respectful, honest and insightful."
Graham Perry, CEO, See Australia
"Peter's ability to deconstruct complex issues and then synthesize a practical approach is at times startling but always refreshing.  It has been invaluable to me in navigating a course through."
Gordon Taylor, Executive GM, Thiess Vic/SA/Tas
"Peter enables teams to reach clarity of vision and then build a strategy to deliver. Better still, he coaches executives to interact in a far more positive fashion leaving nothing unsaid and expediting success. Peter teases out the real issues and once he has gained trust, he takes a very direct approach."
Matthew Day, VP Account Management, CSC Australia>/span>
"Peter's skill as an organization consultant and leadership coach is unparalleled.  Peter brings to life the principles of leadership alignment by using business metaphors that individual leaders can identify with, and helps leadership teams to apply simple tools to develop action plans for themselves and their organizations.  There is both science and art to successful organization and individual transformations – TAP delivers the science – Peter is the art."
Denise Peppard, Chief HR Officer, Northrop Grumman Corporation
"Peter builds trust and credibility quickly with senior executives and sustains that over time. He has the capacity to communicate to business leaders in terms they understand. He uses story-telling effectively to illustrate concepts and build a case for change. Peter trusts confidences and is both challenging and respectful towards senior executives. Peter always conveys a sense of confidence and optimism which really assists teams to feel like they can achieve significant things. Peter is very consistent in his behaviour and what you see is what you get."
Trish Butler, Head of People Capital, ANZ Markets
"Peter is a change agent who is first and foremost a strategic business partner who delivers business results well beyond your initial expectations. The efficacy of Peter's strategic frameworks and implementation model has enabled us to sustain improved bottom-line results since 2003. The interventions Peter promotes have, at their source, a deep understanding of business strategy and applied behavioural science – a unique and powerful combination that he delivers through pragmatic consulting supported by efficient yet simple tools and processes. The essence of the partnering relationship with Peter has been trust and quality. He has demonstrated genuine leadership and has been relied upon to take us forward in a constructive direction. We have witnessed some behavioural transformations in our executives that have inspired others and impacted everything we do. Peter's inclusive and generous engagement model has enabled the HR function to raise its strategic contribution and capability. The business value of our people investment has gained increasing recognition and was core to CSC's strategic turnaround towards growth through customer intimacy. As a consultant, Peter is a pleasure to work with and has gained the respect and trust of all at CSC. I would recommend his services to anyone with great confidence."
Christiane Moloney, Vice President HR, CSC Australia
"Peter's impact is substantial, once he expresses a view it is rare that an individual does not sit up and listen. His ability to succinctly communicate organisational issues results in senior leaders taking notice and acting on recommendations. Peter is passionate and intelligent with an ability to understand senior executives' issues and person goals to succeed. He has a clear understanding of organisational drivers and integrates these levers with the personal aspirations of senior executives."
Kathryn Hutchins, Head of HR, Promina Financial Services