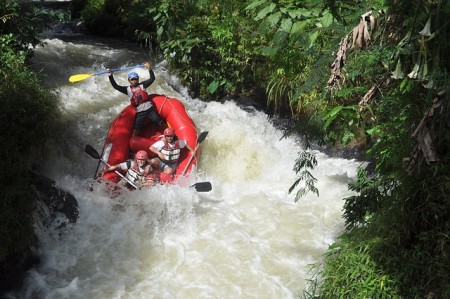 In the words of Voltaire, "doubt is not a pleasant condition but certainty is absurd". Change requires the acceptance of turbulence, uncertainty and disorder as natural characteristics of the modern business context. In this mindset, time that was once spent developing the perfect project plan is invested in understanding the environmental context and developing the critical relationships required for sustainable change to occur. Leaders are more interested in purposeful forward movement than reporting on the plan; they do not let perfect get in the way of better, and their definition of success is to have different challenges to overcome this year than last year.
A useful metaphor to articulate the new paradigm is to compare a rowing regatta to white water rafting. The regatta is conducted upon a calm lake with an even start and an agreed finishing line. The cox sits at the stern of the boat, is the only one facing forward and barks clear and constant instructions to a team of obedient athletes who dutifully deliver their strokes until the regatta is over for another week and everyone retires to the bar.
Fast forward to the current business context and we find ourselves in a kayak with room for only two people and no one to provide close supervision. The water is a ferocious mix of power, energy and unpredictability. The noise is deafening and communication is near impossible; trust in your partner becomes a critical variable. There are dangerous obstacles everywhere and one false move could mean disaster. Making it to the end is only a temporary reprieve because the current soon propels you to the next set of rapids which are waiting around the corner.
When we accept the loss of control and certainty incumbent in the old paradigm, we open ourselves up to the exhilaration and possibilities of the contemporary business context. After all, it is from uncertainty and the unknown that innovation emerges. At the very least, we develop a realistic set of assumptions and beliefs with which to better lead in the new context.